This unit is ideal for the fine control of pH in stirred vessels.
The Controller is the Anglicon SOLO 2 with features as follows:
Bright red LED display with two decimal places

Range 0.00 to 14.00pH

Front panel calibration

Dual independent setpoints with a deadband

On//Off or Proportional Control

Solid state outputs for alkali and acid dosing

7 proportioning times for each output

0 to 100% power control for each output

Totalising of the 'ON TIME' for both Alkali and Acid loop Control

High, Low and Deviation Alarms are optional

Recorder Output, 0-5Volts DC, is optional

Communication to a computer for data logging is optional via a RS232 box
A Front Panel Mounted Watson-Marlow 102 Series Pump-head is selectable to dose either Alkali or Acid. Additional IEC output sockets for both Alkali & Acid pumps are available from the rear panel.
Fixed pump speeds of 1.00 and 4.00 rpm are available as standard.
A standard 50 Ohm BNC connector for connecting the pH probe is fitted on the rear panel. pH Temperature compensation is available on the rear panel either by using the 0 – 60C pot or connecting a two wire PT100 temperature sensor to the 4mm banana sockets to give automatic temperature compensation.
Dimensions 125mm Wide, 230mm Hign and 400mm Deep (Over pump-head and connectors).
Microlab 0 pH control unit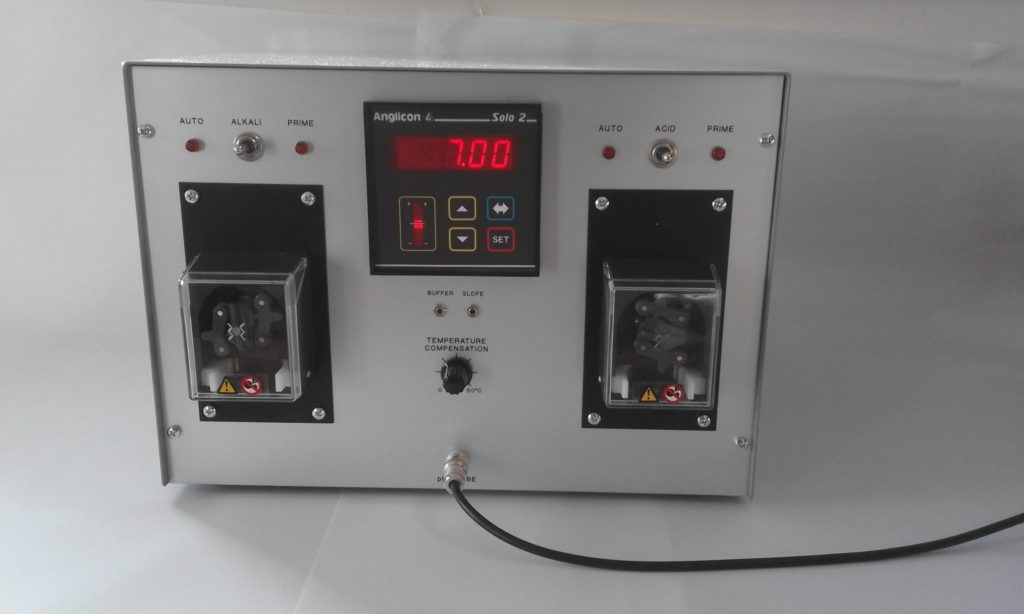 The Anglicon Microlab 0 ph control unit consists of an Anglicon SOLO2 ph controller and 2 Watson-Marlow 102 series fixed speed peristaltic pumps for base and acid addition. Kemotal tracks are supplied as standard with chemical resistant tracks supplied when requested at a small additional cost.
The standard pump speed is 1.00rpm which is ideal for vessels up to 3 litres with a 4rpm motor being fitted for vessels up to 10 litres. The pumps are pulsed by solid state relays driven by outputs from the SOLO2.
A potentiometer on the front panel allows manual temperature compensation over the range 0-60°C for constant temperature processes, or if requested, automatic temperature compensation can be supplied for use with a pt100 temperature probe.
The SOLO2 pH controller has special features which allow precise control of pH on bioreactors. These are:
Two independently adjustable setpoints with a deadband. Both setpoints can be coincident if required
The setpoints and display read to 2 decimal places ie 7.00
ON/OFF or proportional control
A programmer version is available with up to 4 ramps and dwells
Power level settings for both pumps 0-100%
A display of the actual power output
Open or closed loop control
A range of 7 proportioning times from 2 to 120 seconds
Totalising of base & acid addition in time
Calibration by potentiometers for buffer and slope mounted on the front panel or by SOLO front panel key pad calibration
A 0-5 Volt non-isolated recorder output is available, with the recorder ph range being set by the working range set on the SOLO ie 4 to 9 pH range can equal 5 divisions on a recorder
PC communications is available if requested. This is a digital milliamp signal which requires our RS232 box to interface with a PC. Up to 256 SOLO controllers can be connected via one RS232 box.
High and low pH alarms can be fitted to the SOLO and operate either one or two relay outputs as required. These in turn can operate lamps, an audible alarm or be connected to a master alarm circuit.
Dimensions: Height 260mm. Width 360mm. Depth 480mm.