Anglicon Biotechnology Division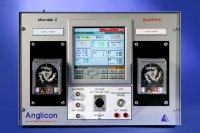 The Anglicon Biotechnology Division of Brighton Systems was started as a division of Anglicon instruments Ltd in 1986, working closely with Beecham Pharmaceuticals to develop bioreactor control instrumentation for their fermentation plant. This was so successful that word soon travelled to many other companies and research institutes worldwide.
Anglicon Instruments was bought by Control Techniques PLC and Anglicon continued to grow. In 1991 Control Techniques PLC closed their instrumentation manufacture warehouse at Newhaven and the Biotechnology Division was transferred to Brighton Systems Ltd with the same staff.
Today, Brighton Systems produces process control systems for various markets, but the Anglicon Biotechnology Division is still the most innovative side of our business. Recent projects for the NHS involving Pure Water control systems, Endoscopy Sterilisation and Neurology peristaltic pump accessories for the fast diagnosis on stroke patients to name a few.
Our Microlab Series of Bioreactor Control Systems for laboratory scale vessels are still one of the most compact in the world with over 100 purchased by Pfizer. Working closely with Invensys Eurotherm we now offer our latest interactive colour touch screen 'Eycoferm' single or multi Bioreactor Control System configurable for most Bioreactors.
Our expertise is in the process control, gas mixing, nutrient dosing etc, but we also manufacture flow cells, bioreactors and other pieces of scientific equipment.
For more information please contact us today on +44 (0)1273 515563 or via email on our contact us page.